Burrito's Little Helper is the first half of the 15th episode of El Tigre: The Adventures of Manny Rivera.
Plot
The ever-enthusiastic, ever-clueless, "superhero" known as Albino Burrito returns and somehow El Tigre accidentally ends up agreeing to be his sidekick for a week. If El Tigre thought doing everything "Albino Burrito" asks of him would be bad, just wait until he sees his the embarrassing moose-themed sidekick costume Albino Burrito wants him to wear.
Episode Summary
Characters
Recurring Characters
Gallery
Montage Scene
Battles
Running Gags
Davi begging to be Manny's sidekick.
Frida saying "alone"
Trivia
We learn that Manny has an El Tigre Mobile in his possession.
Continuity
Errors
When El Tigre said, "That can't be good", he appears to be a bit taller.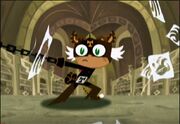 Title card music
The title card music is Ride of the Valkyries, or Albino Burrito's theme.