"
This I swear!
"

— Rodolfo
This article contains information on the character outside of super powers. For information regarding Rodolfo's alter ego, see White Pantera.
Rodolfo Rivera is the overprotective superhero father of Manny Rivera, son of Manny's Grandpapi, and ex-husband of Maria Rivera. Rodolfo outside of his White Pantera powers is what one would call the stereotypical Hero type personality that will stand up for anything that is good, strong, and honorable. He is usually Manny's adviser on being on the good side. Rodolfo teaches Manny many lessons on being a hero and a family member throughout the show.
History
Pre-series
Prior to the beginning of the series, Rodolfo was and still is a legendary superhero. He inherited the Bronze Boots of Truth from his ancestors, battling many super villains in his career, even his own father's alter ego Puma Loco. At one point in time, he met Maria, with whom he would marry and later father Manny.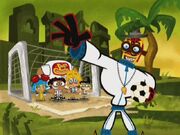 However, Maria became unbearably concerned and afraid of Rodolfo putting himself in danger in his quest for ridding Miracle City of crime, which prompted the woman to separate from him. Though very distraught, Rodolfo continued to fight evil, and raise Manny with Grandpapi.
Series
Canon Future
It's been stated that he'll get back together with Maria Rivera once Rodolfo finally retired from being a superhero. This may possibly be that once Rodolfo actually gave up being superhero, Maria was able to return to him.
Character Design/Inspiration
Rodolfo is based on the creator of the show's father, who was an architect. To Jorge, he was on the good side; opposite of his military general grandfather.
Relationships
Suárez Family
Gallery
Trivia
In Eye Caramba, it is seen on Rodolfo's super hero license as White Pantera that he is an organ donor.