The Cactus Kid is the first half of the 16th episode of El Tigre: The Adventures of Manny Rivera.
Plot
The Cactus Kid is a small town supervillain who's come to Miracle City to break into big time villainy. Unfortunately, his uncanny superpower is the ability to make cactuses bend slightly. Granpapi agrees to take the Kid on as a protégé but only to make Manny jealous. And it works - perhaps a bit too well.
Episode Summary
The episode begins at a town called San Pueblito, where a cactus kid comes into town and starts stealing money from various places.
Characters
Recurring Characters
Characters Introduced
Gallery
the gallery for this episode can be viewed here.
Montage Scene
Puma Loco and Cactus Kid doing evil deeds.
Running Gags
Granpapi trying to make Manny jealous.
Trivia
Cactus Kid only episode focused on himself.
This is the first episode on which Manny isn't the main focus, instead the Cactus Kid is.
Errors
When Manny and Frida arrive at the Rivera house after their food fight, they had rotton food on them, but after 3 cutscenes, the gunk wasn't on them anymore.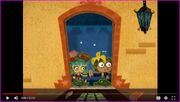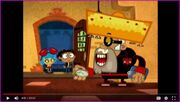 Community content is available under
CC-BY-SA
unless otherwise noted.