This is information on Zebra Donkey, the character. If you are looking for the episode of the same name, see
Zebra Donkey
.
Zebra Donkey (character)

Name
Zebra Donkey
Age
N/A
Gender
Male
Hair
Black and White (Later, Black and Blue)
Eyes
Brown (Later, Brown and Yellow)
Affiliation(s)
Leone Middle School
Alter Ego(s)
First Appearence
Zebra Donkey
Voiced by

Zebra Donkey is the much loved Leone Middle School mascot.
Appearance

His appearance is a donkey with zebra stripes. His appearance changed somewhat after he was brought back to life; he obtained a bluish skin color.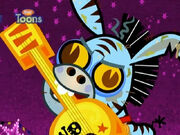 Personality
He is happy, energetic and playful.
History
Zebra Donkey was supposedly found in the wild and taken under ownership of Leone Middle School, becoming the school's mascot. During a contest of selling raffle tickets to take home Zebra Donkey over spring break, Manny Rivera won. He, along with Frida, was supposed to watch an instructional video about taking care of Zebra Donkey, but quickly fell asleep. Manny decided that he "got the jist of it", and the 3 friends do many fun things together during the week. At one point, however, Manny and Zebra Donkey spent time eating banana splits. Frida showed up and told Manny that bananas are poisonous to zebra donkeys. Having eaten many of them, Zebra Donkey passes away.
Frida and Manny steal Sartana of the Dead's guitar and bring him back to life before anyone notices. Sartana of the Dead, noticing her guitar is missing, comes to take it back at the school fair and Zebra Donkey smashes the guitar to save the children, also killing himself. Zebra Donkey was once reborn again (and still a zombie) by the tears of the kids or, which Frida Suárez said, by a string of Sartana's Mystic Guitar.
Relations with Other Characters
Manny Rivera was one of Zebra Donkey's friends. Manny won a contest to take care of Zebra Donkey for a week and had the time of their lives, until Manny killed him by giving him too much bananas. Manny stole Sartana of the Dead's mystic guitar to make Zebra Donkey alive again, which worked.
Frida Suárez was one of Zebra Donkey's friends. Frida helped Manny with Zebra Donkey and had a lot of fun with them. When Manny was giving Zebra Donkey too much bananas, Frida told Manny to stop giving him bananas because it poisons Zebra Donkeys, but Zebra Donkey died.
Gallery
Trivia
When Zebra Donkey was reborn, he looked more like a zombie than a skeleton, which Sartana of the Dead's guitar only summons skeletons.
In Nickpages, Little Mule was called Zebra Donkey.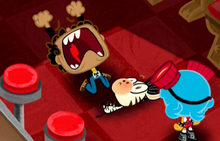 Community content is available under
CC-BY-SA
unless otherwise noted.